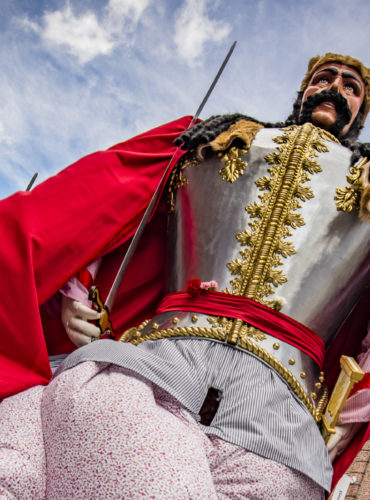 For more than 5 centuries, the Ducasse has had the people of Ath dancing every 4th weekend of August. The people who carry the giants perform a truly technical feat, lifting giants several meters tall and weighing more than 100kg…
Featuring Goliath (Gouyasse in the local patois), this parade which lasts several days attracts more than 50,000 visitors. 
The Ducasse is a tradition going back to the middle-ages which has developed through the years to become a popular festival which lasts several days, featuring the giants, decorated floats and historical groups.
Since the 15th century, the phenomenon of « giants » has been present in western Europe in processions, carnivals and public festivities in general. The political, economic and cultural context has changed but the giants have survived where the tradition is solidly rooted in the population. This cortege which, directly issued from processions, has kept its ancient giants and is animated by a local population who remain extremely attached to them. The ducasse is the major event of the regional festive life. It gives rise to numerous celebrations and cultural events.