The Ducasse of Ath
August 26, 2022 @ 8:00 am

-

August 29, 2022 @ 5:00 pm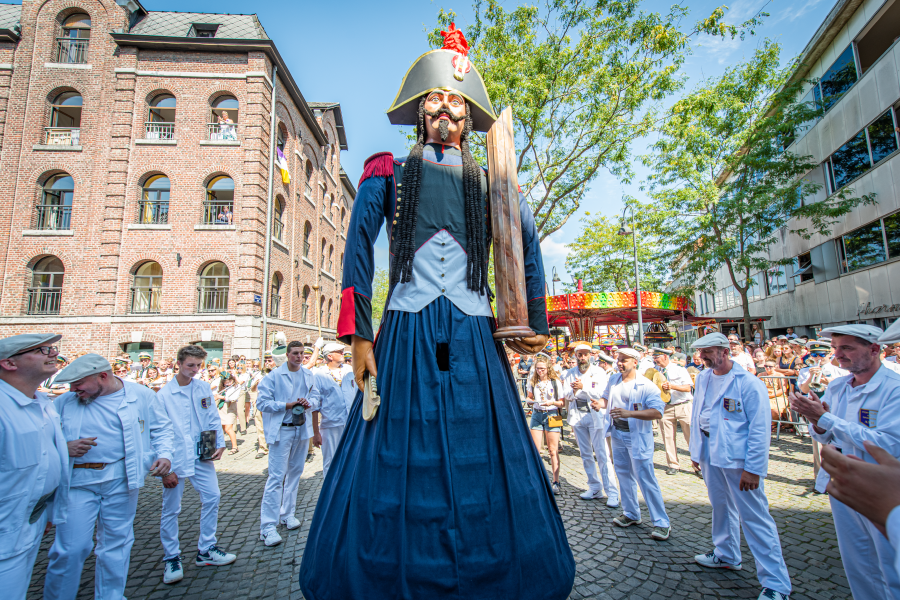 Friday, August 26th
15:00: The Giant Tirant Emerges.
22:00: Burning of the pants of Goliath. Departure of the pants from the Town hall. Created in 1986, the burning of premarital pants comes from a local tradition. Pants of the future husband are burned by his best friends-the citizens of Ath, on the eve before his wedding. After a parade in town, the porters of the giant light his pants, which are padded with hay.
Saturday, August 27th
12:00: Ringing of "Julienne" the great bell of the Church of St. Julian.
15:00: Goliath and his fiancée are escorted by a group "Les Bleus" as the travel, dancing, to the City Hall at Saint Julian, where the Vespers Gouyasse is celebrated – that is to say, the marriage of Mr. And Mrs. Goliath.
17:45: The newlyweds return to City Hall where David confronts the Philistine giant. The child and giant provoke each other verbally through a dialogue called the "Bonimée." This display is inspired by the work of French poet Guillaume du Bartas Sallust dated to the late 16th century. If the shepherd wins the battle, the two giants begin their traditional dance. 
21:00: To evoke the image of the Belgian revolution of 1830, the Mont Sarah canon walks through the streets singing an aria from "Le Muette de Portici."
Sunday, August 28th
9:45 The procession, with its seven giants, 8 floats, and their groups, begins its march facing the station and crosses the city, arriving at the Esplanade at 14:00. The Giants of Ath are each « worn » or carried by one man. Their weight varies from 242.5 – 286.5 pounds, with the porters take turns along the route. The Bayard giant weighs over 1,288.7 pounds, yet he dances and prances at several stops along the route. Four children ride atop him, representing the tale of Bayard-the supernatural bay horse of legend, and his ability to adjust his size to his riders. He is carried by 16 men. San Cristobal de Flobecq is also in attendance, walking around on stilts.
The traditional dance of the Goliath couple takes place in two specific places on Rue aux Gâdes and Rue du Moulin.
15:00: Early folklore parade in reverse. Beginning on the Grand Place around 17.
Monday, August 29th
In the morning, the giants walk through town with their holders receiving donations of gratuity from the population.
19:00: Per tradition, a big balloon representing Ath and the villages belonging to it take flight on the Esplanade, with the participation of the Royal Fanfare Union of Saint Martin.